Responsible business
About our corporate responsibility and our values
Long term and committed work
Responsibly produced services
At Dynava, we serve our customers every day of the year on various contact channels. Our goal is to enable a better functioning society, where help is always available through most suitable service channel. On this goal, our staff plays an important role together with our technology solutions and refined service processes. We want to provide our services responsibly with respect for employees, customers, and the environment.
We base our responsibility program on the UN Global Compact's corporate responsibility program and pay special attention to a prosperous and equal work community, environmentally friendly choices, responsible finance and governance, and we actively support charity projects e.g., in support of children and young people.
It is of paramount importance to us as a company to recognize what kind of environment we operate in and what is expected of us as active members of the community. We want to actively increase the well-being of others through our own activities.
Examples of employee experience
+60 %
employees work remotely in Finland
4,26/5
Rating for induction experience
4,30/5
rating for trust in colleagues
Vastuullisuusperiaatteemme
Dynavan vastuullisuusohjelma pohjautuu YK:n Global Compact –yritysvastuualoitteeseen, joka haastaa yrityksiä edistämään liiketoiminnassaan suotuisia työoloja, kunnioittamaan ihmisoikeuksia, suojelemaan ympäristöä ja ehkäisemään lahjontaa. Noudatamme kymmentä Global Compactin periaatetta ja käytämme niitä viitekehyksenä omalle vastuullisuusohjelmallemme.
Corporate responsibility
Our guiding responsibility principles
The UN Global Compact promotes and develops the ecological, social and economic responsibility of companies and communities. We adhere to the ten principles of the Global Compact and use them as a framework for our own responsibility program. The program has four key themes: a thriving and equal work community, environmentally friendly choices, a responsible finance and governance, and active participation in society, e.g. for the benefit of children and young people.
Henkilöstö
Kukoistava ja tasa-arvoinen työyhteisö
Henkilöstöllämme on yhdistymisvapaus ja noudatamme työehtosopimuksia, jotka määräävät palkkakehyksen ja monet työehdot. Varmistamme työntekijöillemme turvallisen työympäristön työturvallisuusohjeilla ja sitä tukevalla organisaatiolla.
Työntekijämme ovat kaikki tasa-arvoisia iän, sukupuolen, työsuhteen, kulttuuritaustan, seksuaalisen suuntautumisen, uskonnollisen vakaumuksen jne. suhteen. Pyrimme hyvään johtajuuteen ja kehitämme johdonmukaisesti esimiestemme taitoja.
Tarjoamme työntekijöillemme mahdollisuuden kehittyä ja oppia uutta. Annamme tunnustusta hyvistä saavutuksista ja tuemme työntekijöidemme hyvinvointia sekä työkykyä. Mittaamme säännöllisesti henkilöstömme tyytyväisyyttä, hyvinvointia sekä johtamista. Tarjoamme kesätyötä suurelle joukolle nuoria.

Pyrimme hyvään johtamiseen ja kehitämme johdonmukaisesti esimiestemme osaamista. Uudet johtajat saavat johtamis- ja johtamistaitojen peruskoulutuksen. Meillä on aktiivinen sisäinen viestintä ja yrityksen johto tiedottaa organisaatiolle järjestelmällisesti viimeisimmistä tapahtumista.
Vastuullinen liiketoiminta
Reilu, eettinen ja läpinäkyvä liiketoimintakäytäntö
Arvostamme hyvää liike-etiikkaa ja odotamme sitä myös asiakkailtamme ja yhteistyökumppaneiltamme. On itsestään selvää, että noudatamme kaikkia lakeja ja määräyksiä. Vastustamme tiukasti kaikenlaista korruptiota. Työntekijämme ovat velvollisia sulkemaan itsensä pois päätöksistä tilanteissa, joissa heillä itsellään tai heidän läheisillä on henkilökohtainen etu.
Työntekijämme voivat ilmoittaa havaitsemistaan väärinkäytöksistä anonyymisti ilmiantokanavamme kautta. Kunnioitamme ihmisten yksityisyyttä ja noudatamme voimassa olevia tietosuojalakeja. Käsittelemme palveluissamme monenlaisia henkilötietoja ja meillä on vakiintunut prosessi GDPR:n noudattamisen varmistamiseksi, mikä varmistaa, että käsittelemme yksityishenkilöiden tietoja vastuullisesti.
Yhteiskunta
Yhteiskuntavaikuttamista lasten ja nuorten hyväksi
Tuemme joka vuosi kolmannen sektorin toimijoita, jotka työskentelevät lasten ja nuorten hyväksi. Olemme olleet mukana esimerkiksi Nenäpäivässä ja jo kahdeksatta vuotta yhteistyössä Purjelaivasäätiön kanssa, joka mahdollistaa purjehduskoulutusta ja pitkiä purjehduksia erilaisista taustoista tuleville nuorille.

Osallistumme myös yhteiskunnallisiin palveluihin. Tarjoamme esimerkiksi erittäin edullisia hakemistopalveluita vammaisille ja taksilähetyspalveluita liikuntarajoitteisille.
Talous ja riskienhallinta
Vastuullinen talous ja hallinto
Huolellisella suunnittelulla ja valvonnalla varmistamme riittävän kannattavuuden, mikä varmistaa taloudellisen kestävyyden. Meillä on yksityiskohtain strategia- ja taloussuunnittelu sekä seurantaprosessit, joiden avulla seuraamme tulovirtojen ja kustannusten kehitystä.

Meillä on vankka valvontamatriisi taloudellisten tai muiden petosten estämiseksi. Meillä on yksityiskohtainen tietoturvapolitiikka ja varasuunnitelmat jatkuvuuden varmistamiseksi sekä tietomurtoriskien välttämiseksi
Personnel
A thriving and equal work community
Employees are a key asset to our company, as a good customer service experience is always about a genuine, caring and humane interaction. This is why we pay special attention to employee experience, well-being and development of our people. Our goal is to ensure a thriving and equal work community where everyone feels safe and respected members of the community.
Our employees are equal in terms of age, gender, employment, cultural background, sexual orientation, religious beliefs, and so on. Our employees have freedom of association and we comply with collective agreements that set the compensation framework and many other terms of the employment.
We offer our employees the opportunity to continuously develop their skills and learn new competences. We conduct regular employee satisfaction, well-being and management surveys.
We strive for good leadership and consistently develop the skills of our supervisors. Our leadership is based on coaching and open and continuous interaction. We have active internal communication and the company's management systematically informs the organization about the latest developments.
Environment
Environmentally friendly choices
Most of our environmental impact is related to energy consumption and commute of our personnel. We strive to reduce our carbon footprint by reducing work-related travel and energy consumption. Technological solutions, our refined processes and efficient management processes enable up to 60% of employees in Finland to work remotely. We also prefer virtual meetings, which reduce work-related travel.
We help our staff to prefer green traffic options. Our office are located with good public transport connections, and in Finland we support the use of public transport. We have implemented an environmentally friendly car policy with CO2 emission limits to favor electric and hybrid cars.
In our daily operations, our personnel is instructed to favor environmentally friendly solutions. We recycle and reuse as much as possible and control the use of electricity in our offices. We process and store documents mainly in digital form, and our purchasing team favors environmentally friendly choices.
Sustainable business
Responsible finance and governance
At Dynava, we recognize our daily responsibility to make our business as reliable and secure as possible and to ensure long term continuity of our operations. We want our customers, partners and employees to be able to count on us to deliver on our business promise far ahead in the future.
We strive to build sustainable profitability through financial and administrative responsibility as well as careful planning and corporate oversight. We monitor the development of revenue streams and costs through detailed strategy, financial planning and reporting processes.
We have a solid corporate control matrix to prevent financial or other fraud. Our detailed security policy and contingency plans protect against hacking risks and eliminate disruptions on our services.
For personal data and information, we have a detailed and secure management process both for our own and customers' services.
Society
Active participation
We want to be active in contributing for benefit of the community around us. We actively participate in this with our core business, for example by providing very affordable directory services for the disabled and healthcare related taxi dispatch services.
We also promote local employment and growth by operating in eight locations in Finland and Sweden.
Every year, we actively support third-sector actors who work especially for the benefit of children and young people. We have been involved in Red Nose Day, which helps the world's most vulnerable children. For the eighth year in a row, we have been cooperating with the Sailing Ship Foundation, which enables sailing training and long sailing opportunities for young people with very different background.
Every summer, we offer employment opportunities and valuable work experience for young people in the Responsible Summer Job program.
Lataa vastuullisuusohjelmamme
Tutustu vastuullisuustyömme konkreettisiin toimenpiteisiin lataamalla se tästä.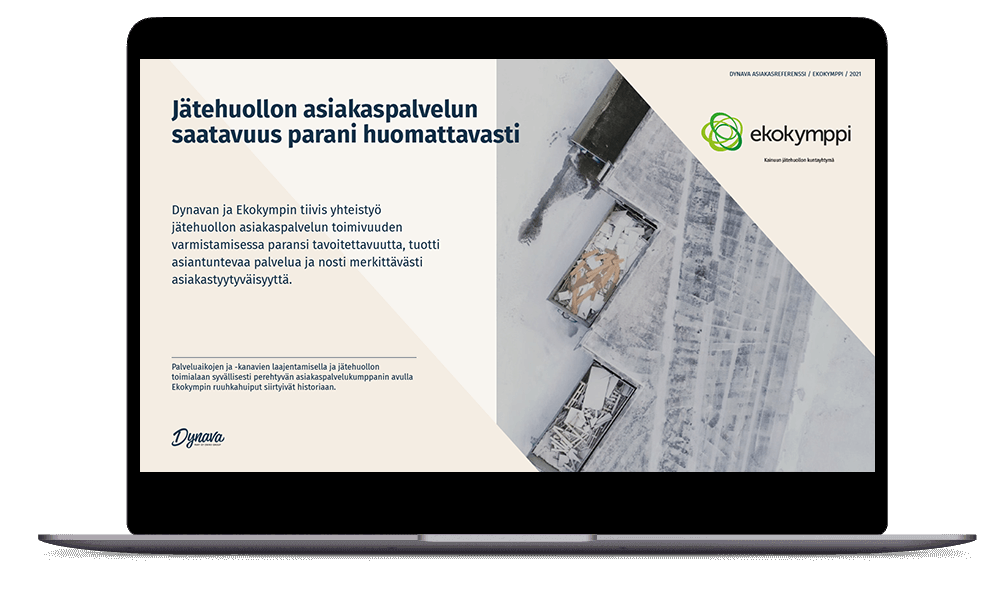 Vastuullisuus
Dynava sustainability program in practice
Ympäristö

We aim for environmentally sound solutions in the offices that we rent.

We recycle and reuse as much as possible

We

control the use of electricity

at our offices,

We handle and store our

documents mostly in digital format

Our business setup facilitates for green traffic related choices and

our

offices

are

centrally located

, with good public transport connections.




Our employees

work partially at home

, and

n Finland we

sponsor the use of public transport

via E-

passi

.

We use

virtual meetings

a lot, which reduces work related travel.

Our car policy

has a max. co2 emission

limit

and it thus

favors electric/hybrid cars

.

In

all of

our purchases, we prefer environmentally good choices

.

Henkilöstö

Our personnel has the freedom of association ("

järjestäytymisvapaus

"),

i.e.

they can choose

whether they belong to a union or not

We

follow collective agreements

, which determine salary framework and many terms of employment.

We ensure

a safe work environment

to our employees with occupational safety guidelines and with an organization to support it.

Our

employees are all equal

, in terms of age, gender, tenure, cultural background, sexual orientation, religious conviction etc.

We strive for

good leadership

and systematically develop the skills of our managers.

We offer our employees

possibilities of developing

and learning new things

We give

recognition to good achievements

. In both Finland and

Sweden

we have a bonus system to reward well performing employees.

We

support our employees' wellbeing and ability to work

. We have a health and safety policy. We aim to identify employees with a risk for work disability as early as possible and make actions to prevent or mitigate the disability. We offer extensive occupational health care services to our employees.

We regularly

measure and aim to improve our

staff satisfaction

, leadership and wellbeing.

We offer

summer work for

a large number of

young people

.

Vastuullinen liiketoiminta

We value

good business ethics

and expect it also from the customers and partners we work with.

Self-evidently, we

follow all laws and regulations

.

We are strictly

against any kind of corruption

. Our employees are obligated to rule themselves out from decisions in situations where they themselves or their close ones have a personal interest.

Our employees can report any perceived misconduct anonymously via our

whistle blowing

channel

We

honor

people's privacy

and abide to prevailing data protection laws. In our services, we handle many kind of personal data. We have a well-established process for ensuring GDPR compliance, which ensures that we process private person data in a responsible way.




Yhteiskunta

Each year we are supporting third sector players with good aims towards children and young people

Examples of the projects that we've

been involved in

:

"Nose day" (

Nenäpäivä

): in 2020 and earlier, we volunteered for responding the donation calls

Purjelaivasäätiö

: for several years we have c

ooperated with

Purjelaivasäätiö

that facilitates sailing training and long sails for young people with various backgrounds

We also contribute to the society via some of our services. For example, we offer very affordable directory services for people with handicaps and provide taxi dispatch for people with limited capabilities.

Talous ja riskien hallinta

With careful planning and control we ensure sufficient profitability, which ensures our financial sustainability.

We have detailed strategy and financial planning and

followup

processes and with them, good track of the development of our revenue streams and costs.

We have a solid control matrix to prevent financial or other fraud

We have a detailed IT security policy and contingency plans to ensure continuity and to avoid data breach risks